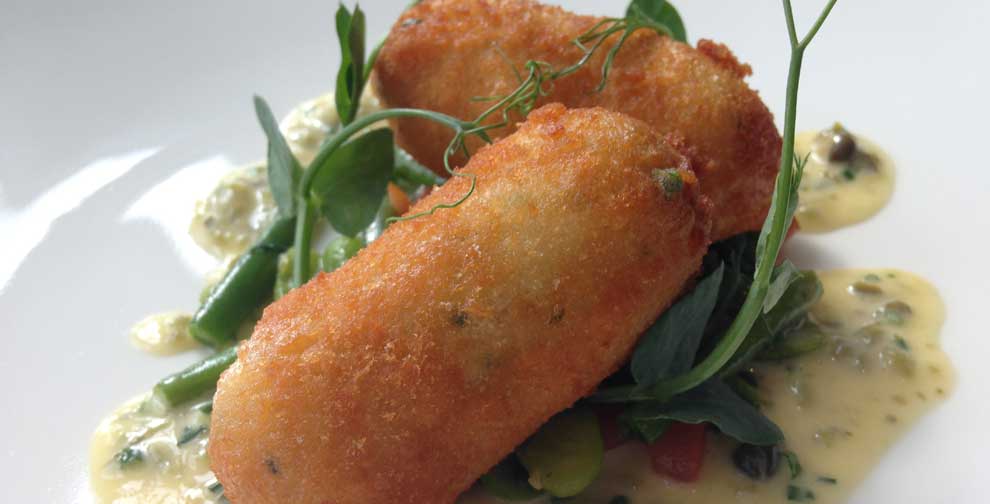 A Taste of Britain
Alex Aitken was thrilled to represent Dorset on BBC's 'Taste of Britain' show recently, as Janet Street Porter and Brian Turner joined him at The Jetty in Mudeford for an afternoon of cooking and filming.
Alex chatted to Brian and Janet about the restaurant's unique location in Mudeford and prepared his (now famous) Mudeford Crab Croquettes. Having joined Alex in the kitchen, Brian Turner described them as "a clever combination of seaside flavours" and Janet Street Porter was left speechless! ("I can't speak; I'm enjoying these so much").
Highlighting his philosophy of fresh, seasonal and local, Alex has successfully championed local produce at The Jetty, with multiple awards and acknowledgments as a result.
Janet Street Porter was recently left speechless by these Mudeford Crab Croquettes and now you can attempt to make them too, with Alex Aitken's simple and delicious recipe…
Mudeford Crab Croquettes Recipie
BROWN CRAB BUTTER
110G BROWN CRAB MEAT
110G SOFT BUTTER
PINCH OF CAYENNE PEPPER
A PINCH OF SALT
JUICE 1/2 OF A LEMON
1 TBSP CHOPPED CHIVES
1TSP CHOPPED TARRAGON
Place the brown crab meat into a food processor and blitz until smooth then pass through a sieve
Mix the crab meat with the softened butter, the chopped herbs and spices and season with salt, cayenne pepper (not too much pepper, it's nice and hot) and lemon juice
Place the softened mixture into a piping bag and pipe into a cylindrical shape onto parchment paper. Freeze
WHITE CRAB BRANDADE
225G WHITE CRAB MEAT
225G DRY MASHED POTATO – ALLOWED TO COOL
2TBSP CHOPPED CHIVES
SALT AND PEPPER
Mix all together and season with salt and pepper
TO MAKE THE CROQUETTES
Remove the brown crab butter from the freezer and cut into finger length pieces
Carefully wrap them in the white crab brandade mixture so they resemble sausages and return to the freezer
Whilst the croquettes are freezing, you can start to prepare the breadcrumbs.
In three separate bowls you will need some plain flour, some dried breadcrumbs and 2 beaten eggs let down with a dash of cold water
Place the frozen croquettes first into the flour to give them a light coating, then dip into the beaten egg shaking off the excess then roll in the bread crumbs to coat. For best results do this twice
Place the frozen croquettes first into the flour to give them a light coating, then dip into the beaten egg shaking off the excess then roll in the bread crumbs to coat. For best results do this twice.
The croquettes can now be placed into the fridge ready for deep frying
TO COOK: Heat a large pan of oil to 170'c and carefully place the croquettes inside, turning occasionally to achieve an even golden brown colour. Alternatively use an electric deep fat fryer
TARTAR BUTTER SAUCE

1 SHALLOT FINELY CHOPPED
150G BUTTER
30ML WHITE WINE VINEGAR
75ML WHITE WINE
10ML CREAM
30ML STOCK
SALT AND PINCH OF SUGAR
JUICE OF ½ LEMON
Add shallot, vinegar and wines to a pan and reduce until dry
Add stock and cream and simmer
Remove the pan from the heat and whisk in the diced butter a little at a time, waiting until the butter has melted and been incorporated before adding any more
Season and add and lemon juice, adjust the consistency with a dash of water if necessary. Pass through a sieve
GARNISH: Garnish the butter sauce with chopped capers, chopped baby gherkins, chopped parsley and finely diced shallots