The Jetty
Waterfront Restaurant, Christchurch
Taste of South West Tourism Excellence award winner, The Jetty is set right on the water's edge looking across to Mudeford Quay, Dorset – all our diners just stand and gaze at the spectacular views!
We are located in the grounds of the Christchurch Harbour Hotel so The Jetty is easy to find. It has a wonderfully relaxed atmosphere and is a fantastic place to gather, share a bottle of wine with friends, take in the breathtaking views and choose something from the totally delicious menus.
At The Jetty we always have mouth-watering fish landed daily on the local Quay and suppliers from the local area drop seasonal ingredients right to our kitchen – it's these local flavours that we want to celebrate with the community around us. We want The Jetty to be a neighbourhood Christchurch restaurant.
Opening Times
The Jetty is open 7 days a week
Monday – Saturday
Lunch 12 noon to 2.30pm and Dinner 6.00pm to 10.00pm
Sunday
12 noon to 8.00pm
Our Menus
The philosophy to Alex's cooking is the produce, it's spontaneous, local and sustainable. View our selection of sample menus below. Some dishes are subject to the availability of local ingredients.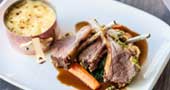 A La Carte
Be the first to try our incredible new A La Carte menu.  Book your table now
Click here to view our tasty A La Carte menu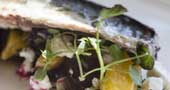 "Catch" of the Day
Our selection of great seafood. As much as possible "off the quay" and from around the West coast
Click here to view our Jetty "Catch of the Day" menu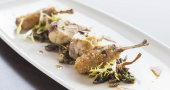 Seasonal "Local Produce" Menu
Monday – Saturday lunchtimes
Monday – Thursday evenings 6pm-7pm
1 course £17.50, 2 courses £22.50, 3 courses £25.95
View the sample menu below.
Please note this is not available on Valentine's Day – 14th February 
STARTERS
ALEX'S TWICE BAKED CREAMY CHEESE SOUFFLÉ
Bream Ceviche
with Apple and Potatoes Salad
Stir Fried Beef
with Asian Style Salad
Grilled Mackerel Fillet
with Pickled Beetroot Salad and Horseradish Crème Fraiche
MAINS
Roast Pollock Fillet
with Creamy Savoy Cabbage and Bacon
Bream Fillet
with Crab Orzo Pasta
Plaice Cutlet
with Parmentiere Potatoes, Wild Mushrooms and Greens
Calves Liver
with Champ Mash Potatoes, Greens and Red Wine Sauce
DESSERTS
Mango Pannacotta
with Berry Compote and Ginger Crumb
Milk Chocolate Parfait
served with Roast Peanuts and Raspberry Sorbet
Sticky Toffee Pudding
with Caramel Sauce and Vanilla Ice Cream
Or why not try all 3 with an Assiette to share
(supplement£3.50)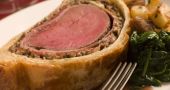 Sunday Lunch
Sunday Sample Menu
Join us and enjoy 3 courses for £35 per person
APERITIFS
jetty bites
A delicious selection of seafood nibbles £6.00 per person
TEMPURA VEGETABLES
A mixed selection with dipping sauce £5.00
Cockle Popcorn
Delicious cockle popcorn £4.50 each
TEMPURA PRAWNS
Dipping sauce £2.00 each
Treviso Prosecco 125ml £7.95
Dom Pérignon Vintage 2006 125ml £29.95
Champagne 'René Brisset' Cuvée nv 125 ml £9.50
Lombard Brut Premier Cru Rosé 125 ml £10.95
STARTERS
Jetty Bouillabaisse
Served with rouille, parmesan and croutons
Steak Tartare
Prime dry aged fillet, smoked in hay,hand chopped with seasonings
Served with hens egg yolk and crouton
Bream Ceviche
Served with a potato, anchovy,
Apple and fennel salad
Chicken Wings and Scallops (£2.50 Supplement)
Seared scallops and spiced chicken wings
With salted mango and a hot and sour sauce
Alex's Twice Baked Cheese Soufflé
Twice baked creamy cheese soufflé (v)
Crab Benedict
Mudeford crab on toasted muffin
With poached egg and Hollandaise sauce
Mackerel
Grilled fillet of mackerel
Served with beetroot, orange salad and rocket pesto
Spring Risotto
Pea and broad bean risotto
With new season Sopley asparagus
ROASTS & MAINS
Roast Beef
Roast sirloin of beef served pink with traditional roast garnish
Trio of Pork
Slow roast pork belly, pink tenderloin, black pudding hash
With traditional roast garnish
Chicken
Roast chicken breast and leg with stuffing
Bread sauce, game chips and roasted root vegetables
Lamb with Tomato
Loin fillet of lamb cooked pink, tomato & anchovy tart,
Polenta chips, basil and lamb sauce
Sea Bream
Solent sea bream fillet
Served with a shellfish ratatouille
Cod and Crab
Butter poached cod
Served with a shellfish broth and crab dumplings
Jetty Fish Pie
Jetty style fish and prawn pie
Served with greens
Stone Bass Tapenade
Fat fillet of stone bass topped with olive tapenade
Served with grilled fennel, red peppers &
tomatoes, olive oil & lemon juice
DESSERTS & Coupes
chocolate
Dark chocolate fondant with ginger crumb and  pistachio ice cream
Pannacotta
Blackberry pannacotta with berry compote and blackberry sorbet
"The Sunday Pud"
Sticky Toffee Pudding with salt caramel ice cream
Passion Fruit Parfait
Served with passion fruit sauce
Lemon and Meringue Coupe
Lemon Sorbet, whipped cream, lemon curd and crushed meringue
Café Liégeois
Coffee ice cream, whipped cream and coffee syrup
Ice creams and sorbets
Ice creams and sorbets
A selection of ice creams from Jude's ice creams
Selection of local artisan cheeses
3 cheeses (or 5 cheeses supplement £3.50)
If you are concerned about any food allergies or intolerances, please speak to any member of the team, who will be delighted to assist..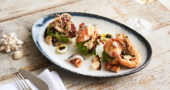 Jetty Tasting Menu
£65 per person
A light delicious collection of jetty dishes to be enjoyed by the whole table
Jetty Tasting Menu £65 per person
The Ultimate Aperitif. Enjoy a glass of Dom Pérignon 2006 Champagne
Dom Pérignon Vintage 2006 £29.95
A light delicious collection of jetty dishes to be enjoyed by the whole table
Amuse Bouche
********
Puff Pastry Pillows
Filled with new season asparagus and salmon mousse
********
Lobster and Truffle Ravioli
Served with peas, Sopley asparagus, pea shoots and truffle oil emulsion
********
Catch of the Day
********
Aged Fillet of Beef
Greens, dauphinoise potatoes and red wine sauce
********
Pickled pears
With Isle of Wight Blue cheese and candied walnuts
********
Rhubarb and custard soufflé
With such a fantastic array of flavours why not let us decide the wines for you, with a small glass to accompany each course just £39.50
If you are concerned about any food allergies or intolerances, please speak to any member of the team, who will be delighted to assist.
All prices are inclusive of vat. Discretionary gratuity of 10% is added to the total bill and is divided fairly between the staff and independently from the business.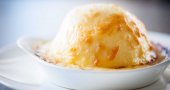 Vegetarian Menu
Sample Menu
If you are concerned about any food allergies or intolerances, please speak to any member of the team, who will be delighted to assist
STARTERS
WILD MUSHROOM RISOTTO
Wild Mushroom Risotto with Madeira Sauce and shavings of Old Winchester cheese
PICKLED PEAR AND BLUE CHEESE SALAD
Pickled pear, Isle of Wight blue Cheese Salad with Caramelised Hazelnuts
Alex's twice baked cheese soufflé
With glazed Dorset Cheese
MAINS
Truffle Macaroni
Macaroni Cheese infused with Fresh Truffle
vegetable STIR-FRY
Selection of Vegetables with Bok Choi, Cashew, Peanuts  and Egg Fried Rice
Warm Salad
Warm salad tomatoes, fennel, peas,
And Broccoli with shavings of Old Winchester cheese and Croutons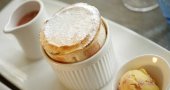 Desserts
Try our delicious dessert menu with an accompanying dessert wine.
Château d'Yquem 2006 the most famous dessert wine in the world
So good, it is the only wine in Bordeaux to be given a status above first growth!
£37.50 per glass
Fantastic Talisker whisky from Isle of Skye . Enjoy Neat 25ml £5.00 or in one of the Classic Cocktails £9.50
Sours, Old Fashioned, Julep, Manhattan – just name it and we make it.
Hot passion fruit soufflé
Passion fruit soufflé served with passion fruit sauce £9.00
Sommeliers choice – Seigneurs de Monbazillac, Monbazillac France 2013£5.95
Warm chocolate fondant
With toasted marshmallows and peanut butter ice cream £8.95
Sommeliers choice – Aleatico, Salice Salentino Dolce, Italy 2012 £7.95
Or
Sommeliers choice – Pedro Ximenez Sherry, Spain 2012 £7.50
Apple Tart Tatin
With prune and Armagnac ice cream £8.95
Sommeliers choice – Pineau Des Charentes, Jules Gautret, France £5.95
 Piña Colada Baked Alaska
With mango and lemon grass sauce £7.50
Sommeliers choice – Jurancon Guirouilh France 2012 £6.95
Lemon and Cheese
Lemon meringue cheese cake with raspberry sauce
and poached candied lemon £7.95
Sommeliers choice – Tokaji Late Harvest, Oremus, Hungary 2014  £ 7.50
Oops, I`ve Dropped My Ice Cream
Think, a delicious cornetto, but dropped in sand, thankfully edible sand £7.50
Sommeliers choice – Château Fayau Cadillac Bordeaux France 2011 £6.50
Selection of Artisan Local Cheeses with Fudges Biscuits
3 cheeses£8.50/5cheeses £13.50
To complement we have a superb selection of 3 ports for £23.50
Jude's Ice Creams and Sorbets £6.00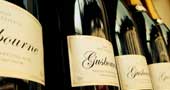 Wine List
We have an extensive wine list at The Jetty, so there is something to suit every palette!
Prices for white, red and rose wines below are written as follows bottle / 125ml / 250ml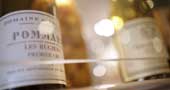 Special Wines
Make a Reservation
To enquire about making a reservation at The Jetty, please call us on the number below, or enquire online and we'll get back to you.